Hurst Place
1 Kleinwort Close, Haywards Heath, West Sussex, RH16 4XH View Map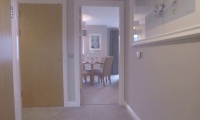 Welcome to Hurst Place
Hurst Place in Haywards Heath is a beautiful development of luxurious apartments and courtyard houses offering everything you need to truly revel in your retirement.

This is a place where you can make the most of life, surrounded by luxury and safe in the knowledge that your beautiful new home will always be maintained to the highest possible standards, with all the support you could need waiting on your doorstep.

Hurst Place houses and apartments benefit from their own unique features and views, but all sharing the same high standard of finish, with access to beautiful gardens, communal areas and facilities.

Located in the charming town of Haywards Heath in West Sussex, Hurst Place enjoys a peaceful woodland setting that is close to local amenities.

From the courtyard houses and luxurious apartments to the first-class facilities, every feature of Hurst Place has been designed to meet the specific needs of older people. This is a place where comfort, community and complete peace of mind all come as standard.

If you'd like more information about Hurst Place, please get in touch. We'd be delighted to hear from you.
The service at Hurst Place is performing very well
Hurst Place currently has 0 reviews
60% sold
Features
Communal facilities
Shared facilities complementing each private residence:
Beauty salon
Cafe
WiFi
2 lifts
Scooter storage
Outdoor space
Well maintained outdoor space for you to enjoy:
Garden
Seated patio area
Landscaped gardens
Care and support
More support available when you need it:
Anchor Homecare
On‑site care services
Supporting Manager
Life at Hurst Place
Our customers really value the services our passionate and professional teams provide.

We encourage visits to Hurst Place so you can meet our estate manager and get a feel of what it would be like to live here. You will be able to look around, meet your new neighbours, find out what goes on and ask any questions you may have. It is important to us that you make the right decision and are happy with your choice of new home.
---
Lutchmun Kangalee
Estate Services Manager
Welcome to Hurst Place in Haywards Heath. We look forward to showing you around our luxury retirement apartments and answering any questions you may have abotu the lifestyle on offer.
Getting here
Hurst Place
1 Kleinwort Close, Haywards Heath, West Sussex, RH16 4XH
For sat nav's please use – RH16 4BB